Equipment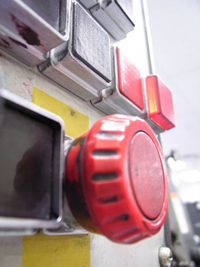 We utilize the most current technology in our industry. Our state-of-the-art equipment allows us to provide our clients with high-quality products on time and on budget
We realize that most people could care less about what model of press or copy machine we use, so long as they receive what they ordered. Still, we can't help being proud of our toys. Once you see how great they make you look, we hope you'll be proud of them, too.
Pre-press
Digital Pre-press

Workstations - We have both Macintosh and PC workstations with current software applications for all popular graphic processing programs. Current software levels for Indesign, Quark Express, Pagemaker,Illustrator CS2, Photoshop CS2, Acrobat Professional, MS Word and Publisher. We can support older versions of most of this software. Freehand and Corel Draw may be supported for certain platforms.

Image Capture

Linotype-Hell Ultra desktop scanner for line art and text up to 8-1/2" x 11" original and Hewlett Packard
Scanjet 4c scanner for color art and text up to 8-1/2" x 14" original.

True-flow RIP

File processing through True-Flow to provide internal and mechanical element proofing via Xerox Phaser
7750 digital four color laser printer, calibrated color proofing on Epson Stylus Pro 7600, 24" inkjet printer
and to create plating files. Plate imaging on FUJI/Luxel T-6000 process free, computer-to-plate system,
punched for press mounting.
Digital Printing
Xerox Digipath with scanner

This is for color or grayscale text, line and halftone art up to a 12" x 18" originals.
Offset Presses
Two color, 13-1/4" x 17-1/2", with 12.99" x 17.24" image area.

Two color, 13-1/4" x 17-1/2", with 12.99" x 17.24" image area.

This is a 5 color press with and Aqueous coater which allows us to run 4 process colors and a PMS match.
Binding & Finishing
2 Beseler T-14-8 Auto sealer shrink wrap machines

Baum 714XE Ultrafold, 12" x 18" with two folding gates

Bourg BB3002 Perfect Binder

Single pocket perfect binder and trimmer – 4" x 4" x .04" to 12.6" x 15.15" x 2.36"

GBC & Plastic Coil binding –USP13 Sickinger punches, hand punches, coiling and crimping

GBC 24" plastic film laminator

Graphic Wizard numbering machine

Hand operated round corner machines

Hand operated saddle stitchers

MBO pile feed folders (2),

20" x 33" with two right angle sections, 12 folding gates total

Morgana AutoCreaser

Padding press

Paper drill (3)

One with 5 heads and two with three heads. This enables us to 3 hole drill large quantities in a shorter period.

Pro-Cut 320 MPS programmable 32" paper cutter

Rollem Champion 990 scoring and perforating machine

Wohlenberg programmable 36" paper cutter